Whether you manage a small-office network or a large data center, you know it can be difficult to pin down an enclosure that:
• Fits your space.
• Holds components compactly and securely.
• Leaves room for expansion.
• Provides adequate and efficient cooling.
• Has room for power distribution.
• Manages cable neatly.
• Makes components easy to access.
• Locks when you need it to.
For exactly the right enclosure, choose an Elite™ Cabinet. We have a wide range of preconfigured Elite Cabinets in stock and ready to ship, but if your needs are more specific, Elite Cabinets can be customized to your specifications in two business days
or less.
• Choose from 11 frame sizes ranging from 24U to 45U and 32″–48″ deep.
• Add front and rear doors in a choice of five styles, or choose no doors at all.
• Select solid or mesh side panels, or leave the sides open.
• Choose from many top-panel options, including a chimney top or high-velocity fans.
• A vast range of Elite Cabinet Accessories adapt Elite Cabinets to fit your needs perfectly.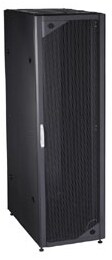 We store one of the world's largest selections of cabinets, racks, and accessories—many are in stock and ready to ship today. Call us for a FREE expert consultation. Our experts can help you determine exactly what our requirements are, then quickly get the right components on the road to your installation. We'll even design and engineer a custom size/configuration for you if necessary.
Filed under: IT Infrastructure | Tagged: easy to access, elite cabinet, Manages cable |